ATOA - Adventure & Tour Operators Association
ATOA - Adventure & Tour Operators Association, is a non-governmental, non-profit and non-political organization from Dharamshala, Himachal pradesh, India, working as a association to promote mountain tourism, climbing sports, protect mountain environments and indulge in rescue management in the hills of Dhauladhar ranges.
The aim of the association is to promote adventure tourism in Dharamshala and take all necessary for prompting, encouraging and assisting in the development of Adventure tourism in Dharamshala and to take initiative to secure the welfare of Adventure Tourism trade. It is also acts like a hub to promote & encourage interaction and discussion with fellow tour operators in the area and conduct seminars, group discussions, course studies, cultural meetings to promote adventure and cultural tourism.
For the tourists, it aims to provide equal opportunity and to enjoy the adventure tourism and travel facilities without distinction of race, color, creed and nationality. It also aims to setup high standard safety, ethical morals, sustainability and standard operating procedures that helps in protecting the ecology and environment of the area. A well trained team is dedicated towards Search & Rescue Operations for trek and mountaineering expeditions.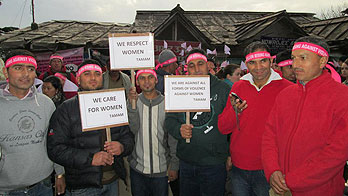 ATOA also acts as a knowledge & information hub for tourist looking to various kinds of tours or adventure opportunity around Dharamsala and make a bond between national and international good-will and welfare.